Two publications have been written about the history of St Paul's – Sarah's acorn, and of the Fell Church A History of Worship in Higher Grange.  Both are available from the Parish Office.
Another publication has been printed 'Colin's Country Churches', written by Colin Milner, former headteacher at Grange Primary School.  It describes his visits to 25 churches throughout Cumbria during Covid lockdown, and includes a map of their locations with photographs – and postcodes for you to find your own way there.  A delightful description of some of our 'hidden' country churches, with a foreword written by Bishop Nigel McCulloch.  Copies are also available from the Parish Office, or can be ordered via the contact page on the web site.
There is also a Welcome leaflet available for visitors at the entrance to St Paul's as a guide round the building.
Monthly Magazine
A monthly magazine is also produced, and copies are available from church during office hours (during the pandemic) or from the station bookstall.   The magazine can be downloaded by clicking on the image below.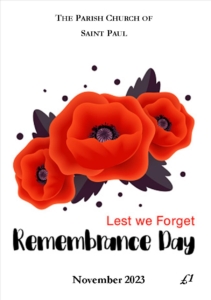 The Cartmel Peninsula Local History Society is currently copying our parish magazines on to its archive, which contains hundreds of documents of local interest.  The archive is available to members of the Society, but anyone wanting a copy of any or all of St Paul's magazines can contact Nigel Mills [email protected] or telephone 01539 536603.
The 1898 bound book of magazines is now available.