St Paul's is now open again for baptisms, weddings and funerals. Baptisms will be held within the main Sunday morning service, so that the newly baptised can be properly welcomed by the congregation into the Church family.
---
St Paul's plays an essential role in providing worship and spiritual guidance for key life events, from baptisms and confirmations to marriage and funerals.
Please contact the Team Office (tel: 015395 35560) if you would like to enquire about any of our services.  The office is open on Tuesday, Wednesday and Thursday, 10 am to 12.30, and on Friday 9 am to 1 pm, or you can leave a message on the answerphone.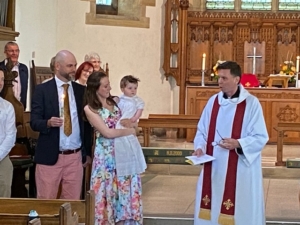 Often called a Christening this marks the start of a journey in God's family, learning to be followers of Jesus. In baptism a person – child or adult – becomes part of God's family, part of the Church. Christenings or Baptisms are a wonderful occasion where you can celebrate the arrival of your child.
Being there for your child to talk to about the bigger questions of life – questions about hope, faith and love.
Praying for your child through the ups and downs of their faith journey.
Showing them practically how to make good choices in life.
Encouraging them to learn more about their Christian faith, through their local church
Whenever it happens, whether as a baby, child or adult, baptism is at the heart of an amazing journey of faith as a follower of Jesus Christ. You are never too old to take this step, and being baptized as an adult is a wonderful experience.
Please contact the Parish Administrator for further details
Confirmation is a special church service in which a person confirms the promises that were made for them when they were baptized. If you were baptized at a christening when you were a child, your parents and godparents made promises on your behalf. As a young person or adult, you may be ready to affirm these promises for yourself and com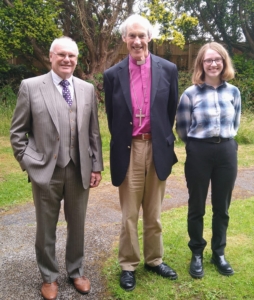 mit your life to follow Jesus Christ. Your friends and family as well as the local Christian community will be there to promise to support and pray for you.
The diocesan bishop will lay hands on your head and ask God's Holy Spirit to give you the strength and commitment to live God's way for the rest of your life.
A wedding is one of the most wonderful moments: a time of love, commitment and solemn promise as well as a party. Marrying in church is personal, meaningful and spiritual – just as you want it to be. Our church is a special and unique place to get married in – you make your promises to each other before God as well as family and friends. You ask for God's help in your life together. We will work with you to make the ceremony special and personal for you and the whole service of celebration will become part of your marriage, on the day itself and beyond.
Please contact the Parish Administrator for further details. Advice can also be given about local facilities to help you plan your day, eg cars, flowers, music, cake, hair and makeup, photography, etc. There are good hotels in the town who specialise in wedding receptions.
The death of a loved one is a distressing, confusing and lonely time. Many people choose to have a service in the church before or after a cremation or burial, or our ministers may lead the funeral service at a crematorium chapel. A Church of England funeral allows you to give thanks for the unique person you know and loved in a way that gives comfort and hope. Christians believe that when we die God promises that we will be with him in a wonderful place where death and pain are gone forever. Whatever the circumstances of death these words of hope are a great comfort to those who attend the funeral. Hope is not just for the person who has died it is for the people who remain behind. We are surrounded by creation with signs of things that die and come back to life, and that is a wonderful metaphor of hope. As a church we will always be there to help you through one of life's most difficult times.
A funeral service according to the rites of the Church of England is available to everyone, giving support before, during and after the service, for as long as it's needed. Please contact the Parish Administrator for further details.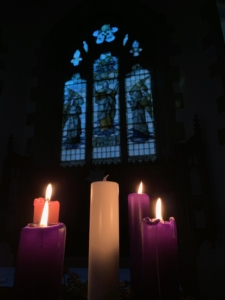 At All Soul's Day each year we offer a special service of remembrance with the opportunity to light a candle.
St Paul's Pastoral Team
There are currently 9 members of our church, both laity and ordained, who are committed to pastoral care within the parish. They meet about every two months to keep abreast of anyone in the parish who is sick or suffering or in need of help so that visits can be arranged and support given. They are in regular contact via email. The team serves basically in two ways.
Those who are ill at home or in hospital are visited and generally kept in touch so that they do not feel forgotten by the church community. They are asked if they would like to be named in the regular prayers and/or have their names on the prayer tree. Lay pastoral visiting is very rewarding. The people visited always seem appreciative, and friendships are formed. Occasionally someone falls through the net, and it would help to be informed of anyone who may have need of a visit.
Holy Communion is taken each month on the first and/or second Wednesday mornings to those who are unable to get to church for one reason or another. Three times a year – Easter, Christmas, and in August – transport is arranged to bring them to church for a short service, followed by tea and cakes, and a chance to socialise. Please contact any member of the team if you or anyone you know would like to receive Communion in their own home. This is a vital part of the mission of our church.
It is also worth remembering that Jesus asked us all to love our neighbours, and pastoral care is not restricted to these few people! It is the job of us all – we live in different areas of Grange and can easily keep an eye on those living near us and perhaps pop in occasionally for a chat.