Two concerts at St Paul's
This September we were fortunate to present two concerts during the month, both featuring outstanding musicians.  They represented the last two in our 10th series of mid-week concerts.
Organ Concert by Ian Thompson 
On Thursday 1st September 2022 Ian gave his inaugural concert at St Paul's with a varied collection of works from JS Bach and JP Sweelinck to Dietrich Buxtehude, Louis Vierne, Oliver Messiaen, Sigfrid Karg-Elert, and  local Cartmel composer Adrian Self.
The popular piece, Toccata & Fugue in D minor by Bach, had been heard by Ian as a child and he was determined to be able to play the piece, which helped him in his bid to learn to play the organ.  What a stirring momentous start to the concert!
Ian followed this with:
Echo Fantasia composed by JP Sweelinck
Fugue in C (Jig Fugue) by Dietrich Buxtehude
Pastorale by Louis Vierne
Le Banquet Celeste by Oliver Messiaen
A Birthday Suite by Adrian Self showing us wonderfully different music to reflect the late Queen's favourite places in the UK.
The last piece – Nun danket alle Gott (Now thank we all our God) by Sigfrid Karg Elert – was a fitting end to the concert.  How lucky we are as a church to have not one but two brilliant organists!
We look forward to another excellent concert by Ian, in 2023.       Judith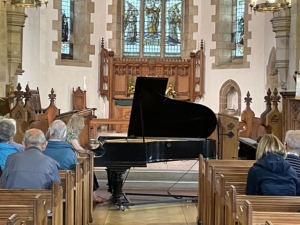 JILL MADE THE OLD GRAND PIANO SING
Thursday 29th September is a date many concert-goers in Grange will remember as the day that Jill Crossland, from West Yorkshire, gave a quite magnificent and exquisite piano recital in St Paul's Church.
At the age of 11, Jill entered the Cheetham's Music School in Manchester as a pupil, going on to becomes a student at the Royal Northern College of Music.  Subsequently, Jill has pursued a professional career in music and last Thursday she gave her first concert here at St Paul's much to the delight of the assembled company.  Jill's playing was impeccable throughout and she gave us a delightful selection of baroque and classical pieces.
The first half comprised music by Scarlatti and JS Bach who (along with G F Händel) were born in 1685.  Keyboard music from this period is often heard performed on a harpsichord.  Using the Bechstein Grand in church, however, enabled Jill to give a great deal of dynamic contrast in her performance where articulation and phrasing were exemplary. The programme continued with a work by the Viennese composer, Franz Schubert, namely his A flat Impromptu. This was a dazzling performance which admirably showed off the rippling effects of arpeggios intended by the composer.  The recital ended with a robust performance of Frederic Chopin's first Polonaise followed by his Three Ecossaises where Jill was able to demonstrate a good deal of chiaroscuro of sound.
The audience applauded enthusiastically, giving a strong indication for a return visit of this very talented and gifted lady.