Goodbye to the Team Rector
The final service at St Paul's for the Revd Dr Jim Bruce, the Interim Team Rector for the past three years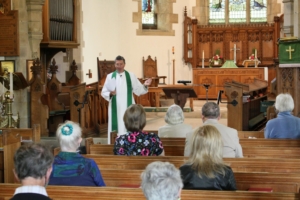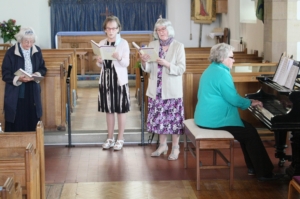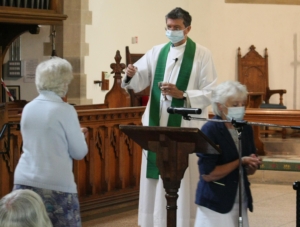 A presentation by the Churchwarden
We are very sad that you are leaving us after just three years as our interim Team Rector and we wish to thank you for your time with us.  We have enjoyed your presence and the way in which you have led our worship. We have appreciated your presence and advice at our PCC and other meetings. We have especially enjoyed your sermons and homilies – strongly and convincingly Bible-based, forthright, clearly transmitting the commandments of Our Lord, and guiding us in the right way to think and act.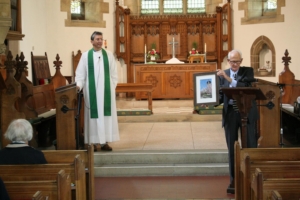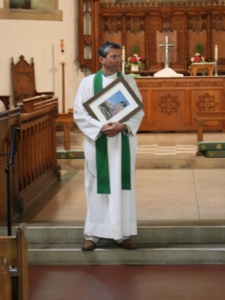 I think I am right in saying that this period in your life's ministry has not been your happiest period. My mind constantly goes back to the interview process which took place in Haverthwaite three years ago when you met a panel of four people from the Cartmel Team, of which I was one. I remember particularly the question that you asked of us towards the end of the meeting, namely "After what you have told me of the situation in the Team, why should I join you, with all the problems, when I could continue to work on the Lake steamers in peace and health, and go home each day at 5.30 p.m. and relax in the evening?"
We very quickly demolished that way of thinking. Liz Arthurs said "That is not what Jesus is asking you to do – he wants you to come and help us." And I said that you were far too young and active to be thinking of so easy a life and there was plenty of time for that when you had a few more years under your belt.  I just hope that we did not mislead you over the difficulties that you would face but I certainly did not believe that you would meet such intolerance, obstructionism, lack of co-operation and lack of support as you have met over your time with us. And the situation concerning the Allithwaite parish has been yet a further irritation and problem. My hope is that you have not met such reactions from our congregations here in Grange.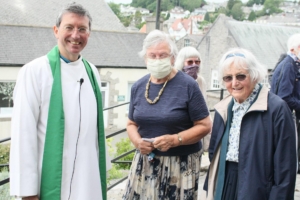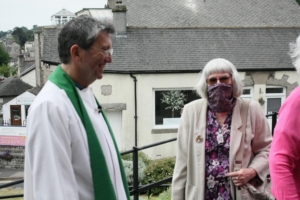 As you move on to the next phase of your life in Christ, we wish you every success and a more congenial working environment, wherever that may be.  In presenting you with this painting, we hope that it will give you happy memories of the town of Grange-over-Sands and especially of your friends in the congregations of St. Paul's and the Fell Church. We hope that you may return here at some time in the future, perhaps to lead us again in worship; you will be welcome. And, to make your farewell a little sweeter, our donations amounted to more than the cost of the painting, so there is also a cheque to go towards a holiday or whatever. In the meantime, we thank you again and we give our best wishes to you, to Valerie and all your family for your future.