Charles Edmondson's last concert of 2021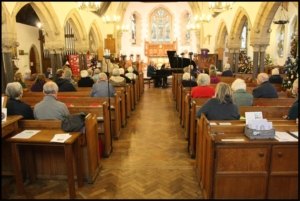 The final concert of the year last month was a two-part event: Mozart and Schubert on the piano, followed by Seasonal Music on the organ, and it was a most pleasant morning. Of course, the mood was set by twinkling Christmas tree lights, and tea or coffee served with mince pies from 10.30 a.m. onwards.
Charles explained that the piano pieces were not part of his normal repertoire but the Covid lockdowns had given him chance to practice, so we were lucky to hear these remarkable pieces. Were the two genius composers really only 25 and 31 respectively when they died? What the world has missed by such brief lives.
The carol-based seasonal music was interesting in its variety. How did Claude Balbastre ("Mr. Alabaster"), a French-speaking Swiss, capture the haunting music of Scottish bagpipes in his variations on a Swiss carol? And Alfred Hollings, the blind organist and composer from Hull (died 1942), had produced a remarkable Cradle Song based on "O come, all ye faithful."
Susan and her skilled team provided the refreshments, Eileen turned the pages, and our cheerful and appreciative audience gave well over £270 towards our funds. Thank you to Charles for this concert and his other performances during 2021 which have contributed so much to our happiness during a most difficult year. We have asked him for more in 2022: we await his news.