What a pleasure to walk into St Paul's and see the long colourful table beautifully laid for the celebration tea.  The atmosphere was so positive with people smiling and helping to set out the tea.  Audrey and her flower team had added to the setting by displaying sprays of purple and white flowers and, placed on a side table, was a magnificent cake made by Emma Walmsley and donated by her father Mark.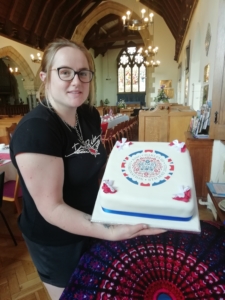 The red and white tablecloths and union jack displays created an appropriate background for the increasing number of plates of sandwiches, baked savouries, cakes and biscuits.  The tiered cake stands, holding a variety of delicacies, and the setting out of the crockery made it clear this was going to be a tea party to be remembered – indeed, fit for a King.
Forty-six took their seats and, after a welcome and introduction by Brian and grace led by Annette, everyone started to select their refreshments from the wide choice before them.  As people happily chatted and ate, they were looked after by a very attentive team of helpers, serving hot drinks and replenishing the platters of food.  An observer would witness a large family having a thoroughly enjoyable celebration of the coronation of King Charles III.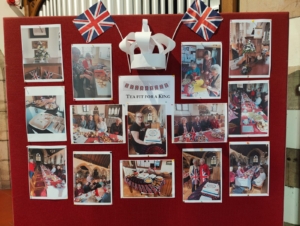 As the pace of eating and drinking eased, people started to turn their attention to a challenging Royal Quiz of 15 questions, to test our knowledge of the historical background to the coronation.  This led to a great deal of discussion amongst those sat next to each other, much frowning, joyful looks as some answers emerged, and a lot of laughter as suggested answers were debated.  In the end, it was Mike who had most of the correct answers* and some of us kept quiet about our low scores.
Despite the best efforts of the many helpers to encourage the eating of more cakes, everyone eventually had to admit they were full.  Not many would want any tea or dinner at home that night.  All agreed with Brian when he thanked the team of helpers who had worked with Penny to arrange the celebration tea, setting it out so beautifully, all those who had busied themselves making sure everyone was well looked after with food and drink, and all those who had contributed the delicious savouries and cakes.
The afternoon tea was a a fine example of the St Paul's family working together to create a memorable 'cuppa and cake' to celebrate the coronation of King Charles III.
GOD SAVE THE KING
Pauline and Alan Wheatley