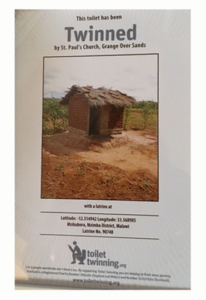 To mark World Toilet Day on the 19th November, we decided to try and raise £60 to twin the disabled toilet in St Paul's with one in a rural village in Malawi.
Without proper toilets and clean water, people are trapped in a vicious cycle:
They're likely to become sick through sanitation-related diseases
Illness means they cannot work or farm their land, so they earn less or grow less food
Children often miss school, because they are sick or because they're busy collecting water
Girls often drop out of school altogether when they start their periods if there are no toilets or changing rooms
Parents have to pay for medicines or food, so they may fall into debt
Women and girls risk being attacked or bitten by snakes as they go to the toilet in the open, especially if the culture dictates that they have to go out at night
Water and sanitation projects enable families to build a toilet, have access to clean water, and to learn about handwashing and other hygiene principles.
Dignity is restored when the whole family can use a private, hygienic toilet at their home and no longer have to squat in the bush.
Folk were invited to enter a sweepstake and to choose a square between 1 and 30, paying £2 to guess where Daisy the chicken did her 'business'.
The result – a framed certificate now displayed on the windowsill of our toilet which shows the one that will be built in Malawi.