South Cumbria Brass Band at St Paul's
There was a tangible feeling of expectation as more than 50 of us assembled to welcome our friends on a bright and sunny morning – and no-one was disappointed with the superb programme which greeted us.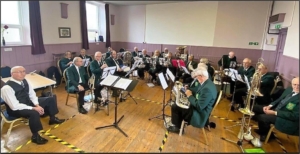 We listened to a spell-binding-array of pieces arranged for brass band, loosely grouped by style of music (traditional, jazz, classical, Beatles and folk songs) which not only showed the versatility of the instruments but the flexibility of our performers. There was nothing of "retirement" about their style or spirit as the musicians handled Sousa, George Harrison and German traditional folk (not to mention the Floral Dance) with great verve, and enthusiasm.
Most of the tunes were familiar to the audience and the useful introduction to each piece by the Band Leader was just enough to satisfy our curiosity over where the music had come from. Of course, some items were more curious than others. So it was Sousa's Washington Post which greeted Sheffield United's home games in the 1950's?  The Floral Dance was written in 1911 by a professional singer on a train returning from Cornwall after a visit to listen to the traditional Furry Dance?  George Harrison, Georg Frederick Handel and Elvis Presley had all composed pieces suitable for brass (which were played for us)? The tunes of D'ye ken John Peel and Thine Be the Glory (original by G.F. Handel) were arranged and merged together so gloriously? It was all fascinating – and stimulative of toe-tapping.
We had a solo on the flugelhorn (so that is what one looks like!), a journey by train with guard's whistle and "real" steam sounds, an arrangement of the first Italian opera written for the London stage (Handel's Rinaldo- very familiar), and a Hollywood version arranged for Elvis of a German folk tune originally written in 1827 (and subsequently provided with different words by Bennie Hill).  Johan Sebastian Bach, Giuseppe Verdi ("Joe Green") and Duke Ellington all had a few notes elsewhere, too. All full of fun and pleasure for an appreciative audience.
We are grateful to the band for giving us of their time and skill, and to Charles for arranging it all, and, of course, to the catering team of Alan and Helen who started us off with tea, coffee and biscuits.  It was a great morning: we look forward to the band's next visit, and to the 13th July flute concert by David Edmonds.