A special service was held at St Paul's this week to mark the end of term for Grange Primary School, and to present gifts to those leaving to go on to the next stage in their educational journey.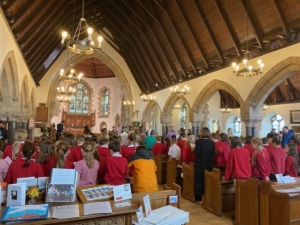 How time flies!  We see another year over at Grange Primary School, and I can't believe that the year 6 are now 'moving on, one of whom, in particular, you may have seen – Alice Evans who helped in church services when she was younger, also writing items for the magazine. Now she's a  grown up 11-year-old.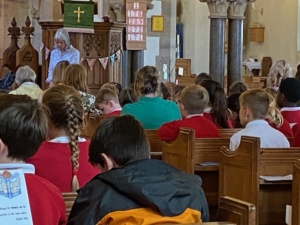 It was wonderful to see the church full with children and parents as we listened to Year 6 memories of their time at school – luckily nothing too embarrassing, but showing a great love of their time there. Each leaver or Year 6 student had painted their favourite value on a stone, and during the service they brought them up to build a cairn to represent these. The Christian values of the school are Love, Hope and Trust.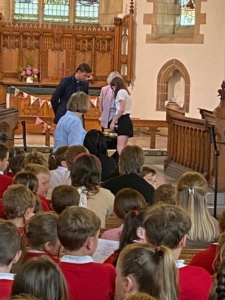 'Moving on' was the theme of the service from the Revd Jonathan Brewster, the hymn 'One more step', the prayers from Annette Miller, and the personal 'Farewells to Year 6' from Mrs Summers, a very  personal touch.  Margaret Ratcliffe from church presented each of the leavers with a friendship bracelet and card (see p19 of the July magazine), which had been made by our 'Crafty' folk – there was even one for Mrs Summers made in red and white, the school colours!
As you are leaving this part of your journey, this gift is made to remind you that our prayers go with you on the next part. Each gift is different reflecting your unique character, but all have a common thread that unites you reflecting the experiences, education and enjoyment you have encountered on the way.
Please accept this gift from St Paul's and remember our prayers for you.
We had  two dancing performances from the Year 6 children which were great to see, and wonderful singing with actions from the school children as we sang 'ENJOY'.
A massive credit to our Headteacher, Phillipa Summers, and staff at the school, and what a celebration to have in St Paul's!