Schools Day at the Priory
Helen Hoyle writes:
Our theme for Priory Day this year was 'Rescue', thinking about how 'God Rescues Us.'
It was good to be back for our annual Priory Day for our Year 5 & 6 children from all the C of E Primary Schools across the peninsula, as it hasn't been able to happen for a few years.
A total of 127 children and 55 adults were involved.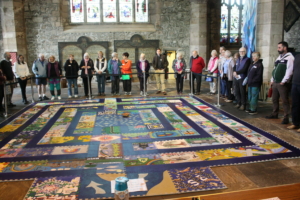 With a dedicated and diverse team of leaders & helpers, lay & clergy from churches including Allithwaite, Grange, Flookburgh, Cartmel Priory, Field Broughton, Haverthwaite, Methodist churches, St. Mark's Barrow and Carlisle Cathedral the day was simply amazing… what a buzz …friendships developed and new friendships made for children and adults alike.
The day was based on the Bible story from Joshua 2 about Rahab & The Spies and the colour red, from the scarlet cord Rahab hung from her window.
In their mixed school teams, children participated in 6 workshops: –
'Drama' about Rahab & the Israelite Spies expertly led by Jean & Mick Malkin in 'The Big Tent.'
'Fun rope games' by Jean Bell in the Methodist Chapel.
'Walking the Cumbria Schools Labyrinth' which was a calming special time for the children, focusing on giving your worries to God and taking away a wooden cross as a reflective memory led by Sarah & Revd. Benjamin Carter, Canon Warden of Carlisle Cathedral.
'Craft' fabulously led by Jenny Leahy and team, where red Friendship Bracelets were made based on the scarlet cord that Rahab used.
'Music' where the children learnt a selection of songs and actions: The God of Hope and God of creation. Led by the inspirational Stuart & Liz Currie
'Prayer Space' where the dedicated team encouraged the children to write Thankyou & Rescue Prayers.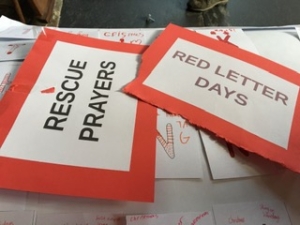 The day started with a fun 'Rescue Hunt' across The Priory as an orientation exercise and a 'Rescue Wordsearch' as everyone arrived from across the 6 Primary Schools and the 6 Team Leaders sorted their teams. A moment of 'Welcome & Worship' led by Revd. Nick Devenish and Helen Hoyle started the day, including an introduction & bible story of Rahab.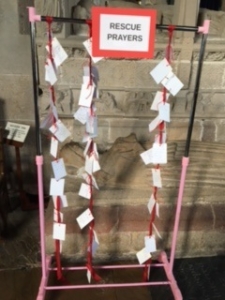 Further unpacking of the Story of Rahab was led by Revd. Jane Maycock after a welcome break of juice and biscuits mid-morning followed after lunch by Revd. Jonathon Brewster's talk about the rescue of a rare copy of Tyndale's Bible held at St. Paul's Cathedral, one of only 3 in the world! Fascinating.
Revd. Benjamin Carter, Canon Warden of Carlisle Cathedral spoke about the Schools Labyrinth.
The day ended with everyone joining together singing the songs the children had learnt and experienced in their music workshop, Stuart & Liz Currie led this truly inspirational and energising moment of praising God…a closing prayer by Revd. Jane Maycock and The Blessing by Revd. Nick Devenish.