Our trip to Carlisle Cathedral
On Saturday 30 September, the Installation and Institution of the New Dean of Carlisle took place at Carlisle Cathedral.
The Very Revd Jonathan Brewster became the 42nd Dean of Carlisle at this special service, attended by over 400 guests, including leading figures from the City and Diocese, as well as friends and family of the new Dean, and members of the public.
The service featured beautiful performances by the Cathedral Choirs, a civic welcome from local dignitaries, and prayers led by members of the clergy from across the Diocese of Carlisle.  In his sermon, drawing from the Cathedral's Augustinian heritage, Jonathan spoke of the Cathedral as a place where all are invited to discover the deep rest that St Augustine famously wrote about.  "In a world of information noise, where news, information and opinion is delivered at pace, the offer of such sanctuary and rest is needed now more than ever".        (eNews 6th October)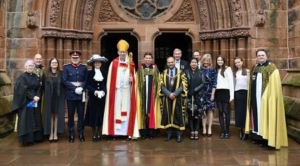 Our trip to Carlisle
On the 30th September, Jonathan Brewster was installed as Dean of Carlisle Cathedral, and 29 people mainly from St Paul's boarded a coach to celebrate Jonathan's special day.  The Bishop of Penrith led the service, with other dignitaries also taking part in the ceremony.  The setting at the Cathedral was perfect, and the choir and hymns enhanced the ceremony.
It was lovely to see and chat with Jonathan, Sarah and the girls, and to see how well they had settled in to their new home in the Cathedral Close, and we all agreed that we hoped we can keep in regular contact.
After the inauguration a splendid buffet and drinks were provided and greatly accepted by everyone.
Even though the weather was not at its best, all from the coach agreed it had been a lovely day.  Being on the coach gave us all the chance to chat with one another and to discover things we did not know about each other, making the journey pass quickly.
Thank you to all who attended from St Paul's.
Perhaps more trips on a coach could be the thing !?!!