On Maundy Thursday 50 members from the churches in the Team gathered at St Paul's for a celebratory meal to remember the Last Supper.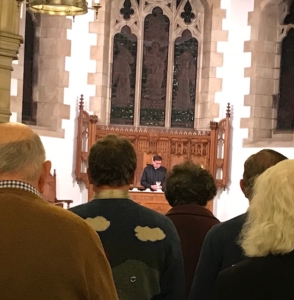 The Revd Jonathan Brewster led the worship, and the Bishop of Carlisle gave a reflection on St Peter and his role in the days leading up to Christ's arrest.  Bishop James had been on the peninsula during Holy Week, and gave reflections on Judas on the Monday at Cartmel Priory, on Mark at Field Broughton on the Tuesday, and on Ciaphas at Flookburgh on the Wednesday.
At the start of the Maundy celebration, the candles on the 7 tables were lit, with the following words: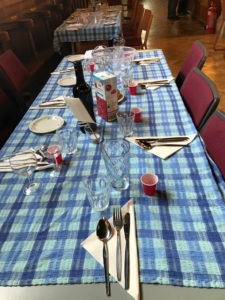 "Now in the presence of loved ones and friends, we gather for this sacred celebration.  With the household of faith, our elders and young ones, linking and bonding the past and the future, we once again hear and obey the call to divine service.  As we kindle the festival lights, we pray for the light of God in our midst that we might see anew the meaning and significance of this night."
Seven tables had been set.  Sarah Brewster had prepared the meal, which was beautifully served by Millie and Poppy Brewster.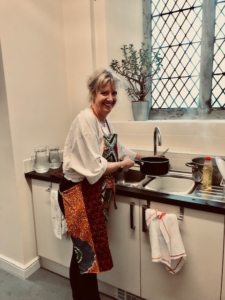 The story told us that in various ways, with different words, God gave promises of freedom to his people.  With four cups from the fruit of the vine (cranberry juice) we celebrated and recalled God's promises to Israel and to us.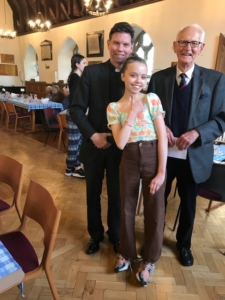 The first cup was of sanctification and freedom, with a reading from Exodus.  The second cup was the cup of deliverance, recounting the deliverance of the Israelites from Egypt.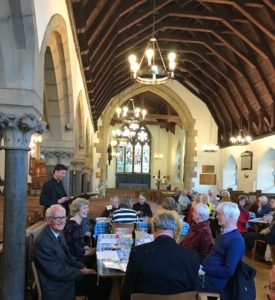 We shared the Peace before the third cup – the cup of redemption for Elijah – we no longer wait for Elijah – we celebrate today because the Messiah has come.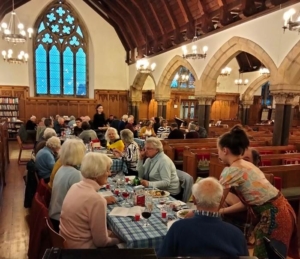 The bread roll from each of other tables was then carried to the altar, as the congregation moved from the social area into the nave for the Eucharistic Prayer.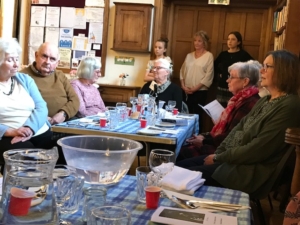 The fourth, and final, cup was that of thanksgiving and hope, in celebration of what God has done in our history, what he has done for us, and as we await a new future.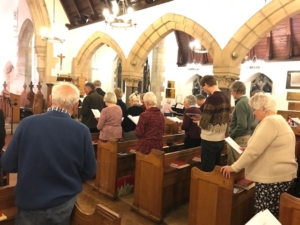 We finished by echoing the traditional concluding words of hope used in the Jewish Passover  – "Next year in the new Jerusalem!"
Finally, the altar and sanctuary were stripped, and left bare for the devotions of Good Friday.