The nativity service by the Nursery class of Grange Primary School
The  Grange School nursery nativity is a highlight as part of the Christmas festivities, and it was lovely this year that we had the Revd Jonathon Brewster to assist in leading the service with Mrs Summers, Headteacher.
This year was a little bit different due to the pandemic and the nursery children had been practising hard, led by Nursery teacher Mrs Hill with the nursery staff. The whole school were supposed to be in church on December 16th, but due to a potential positive test in nursery Mrs Summers took the swift decision that it should be a nursery only service which saved it from cancellation!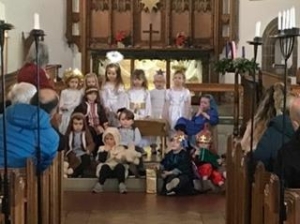 It was a beautiful traditional nativity which was very special for the children and nursery parents. Thank you to all the staff for their hard work in preparation for  the service, dressing the children and encouraging them to take their places in the nativity scene as Mary & Joseph, the animals , Inn keeper, the Angels, the shepherds and Three kings gathered on the chancel steps. One of the highlights for me was seeing the Angels dancing in front of the choir stalls as only young children can!
The Nativity brought home the true message of Christmas as we celebrated the birth of Jesus Christ.