The Haverthwaite Lunch Club
You are invited …
Prior to Covid, the Levens Valley Lunch Club met regularly in St Anne's Church Hall at Haverthwaite, but lockdown ended that and it was thought unlikely to start again.  So, many thanks to Sarah for restoring the now-called Haverthwaite Lunch Club, and to Celia for being "back in harness".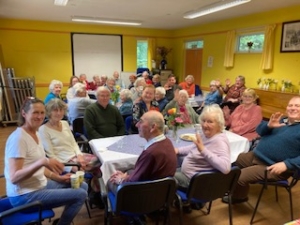 The Lunch Club is held on the second Wednesday of each month, and an invitation is extended to all the churches on the Peninsula.  Many of the old regulars attend together with new faces, some of which are from St Paul's, with Jonathan joining whenever he can.
A very pleasant way to meet others from other churches, and to enjoy an opportunity for fellowship in a warm and welcoming environment.
Once again, our thanks to Sarah for her kindness and encouragement of the community, not forgetting her delicious meals.
Susan and Eileen
PS Numbers could be limited so it is necessary to contact Sarah if you wish to join ([email protected])