National Day of Reflection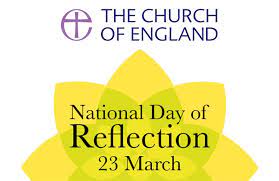 St Paul's observed the National Day of Reflection on Wednesday, 23rd March,  a day which marked the second anniversary of the first UK lockdown. Whether a death is recent or long ago, and whether or not it was due to Covid-19, every year there are millions of people bereaved. The restrictions we've all been living under have meant that many people have had to grieve without friends and family around them. Many have been unable to attend the funeral of a loved one.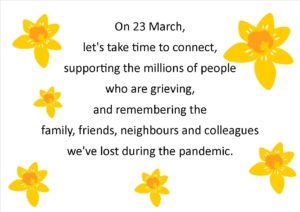 Following last year's successful first National Day of Reflection, Marie Curie, a charity which supports people around a terminal diagnosis,  once again co-ordinated this day to acknowledge grief and loss, and the Church of England is one of several organisations supporting it.
A special 'wall of reflection' was on display and members of the congregation were asked to take a minute to reflect and a moment to connect, and, if they wished, to write a name and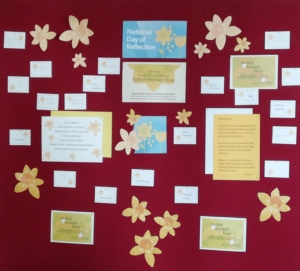 pin it to the wall.  They were also encouraged to phone or take a prayer card to anyone who may feel bereaved.  Church of England research from 2021 shows  that during the first year of the pandemic six out of ten adults knew someone who died where they could not attend  the funeral.
At noon one minute's silence was observed and the church bell was rung.
Dear God,
Be with us as we think about all that has changed,
And help us to trust that you are always with us.
Be close to us as we remember those who have died,
And help us to trust they are at peace with you.
Show us how to reach out to others with kindness and care,
So that hope shines out in every heart and home,
Amen