What's happening at Christmas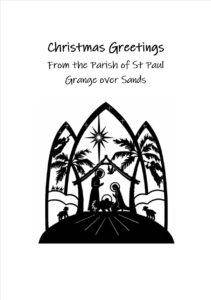 Christmas Greetings from the Parish of St Paul
There's room at the inn!
Come and sing your favourite carols and join the festive cheer as we hear again the message of the angels and celebrate the birth of Jesus Christ.
This comes with the assurance of our prayers for you and those whom you love, especially for those who are in any kind of need at this time.
May the light and peace of Christ bring you God's blessing.
Wishing you all a wonderful Christmas.
Jonathan   (Revd Jonathan Brewster)
A very warm welcome awaits you at any or all of our services this Christmas
(At St Paul's unless otherwise stated)
2nd – 30th  December   Christmas Tree Festival
Open from 10.00 am to 4.00 pm daily(Closed on Christmas Day & Boxing Day)
Sunday, 18th December
4.00 pm – Service of Carols & Readings by Candlelight – Rev'd Annette Miller
Saturday, 24th December – Christmas Eve
6.30 pm – Christingle Service – Rev'd Jonathan Brewster
Sunday, 25th December – Christmas Day, 10 am
This year all are welcome to celebrate Holy Communion at the Fell Church – the Venerable Penny Driver
Do come and join us (LA11 6AN)
Sunday, 1st January  
11.00 am – Holy Communion – Rev'd Annette Miller
 Wednesday, 4th January
10.00 am – Holy Communion – Rev'd Annette Miller
2.30 pm – Cuppa and Cake
Thursday, 5th January
3.00 pm – Seasonal Readings and Music in Candlelight