Celebrating All Souls' Day at St Paul's
A Busy  Sunday for All Saints and Souls
The doors of St Paul's were closed for the morning Sunday service on the 30th October as members from across the proposed new benefice journeyed to Finsthwaite for a joint Communion Service in St Peter's, led by the Rev'd Jonathan Brewster.  Some of us had enjoyed supporting their annual Big Breakfast in their village hall beforehand, while others stayed after the service for coffee and croissants.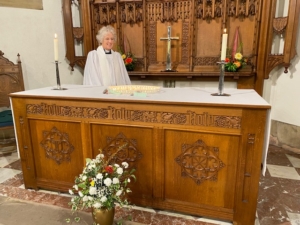 Later in the day, at 4 pm, 32 of us gathered in St Paul's to celebrate All Souls' Day.  The Rev'd Annette Miller led a very meaningful service, during which the names of those we have loved and lost were read out, and candles lit in their memory.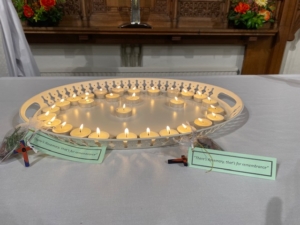 Afterwards we were each given a little bag containing rosemary and a painted cross, together with a copy of the final prayer that Annette had chosen.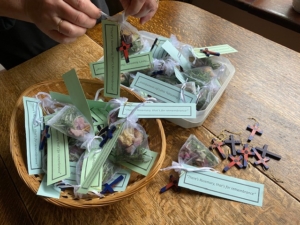 "In the darkest night, when we feel most afraid, someone comes alongside us, a man walking in the darkness, as if darkness were day.  In the storms of life when we feel buffeted, our dreams blown and torn, our trust stretched to its fullest, Jesus calls our name and calms the storms that assail us.  In the trials of life when we feel overwhelmed by worry and apprehension, Jesus reaches out a hand, inviting us to trust, and we find that we can walk on water.
Gracious Father, in darkness and light, in trouble and in joy, help us to trust your love, to serve your purpose and to praise your name; through Jesus Christ our Lord.    Amen"
After enjoying refreshments and the chance to share memories, we ventured home in the dark.