Band Concert at St Paul's
The Roof of St Paul's Church raised on Ascension Day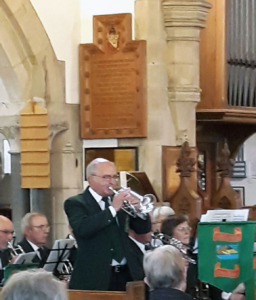 This is probably the first time that the roof of our church has been raised (metaphorically speaking) on an Ascension Day. Sixteen brass players from South Cumbria descended on St Paul's on the morning of 23 May along with their instruments, resulting in a very entertaining concert of varied music being performed in church which, incidentally, has admirable acoustics for listening to such a group.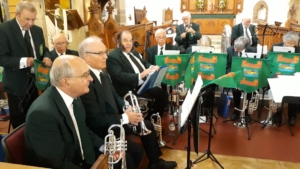 The South Cumbria Brass Band is a group of players of all the usual brass instruments who meet on a weekly basis in Ulverston to rehearse music which they play at agricultural shows and other local functions. Thursday's concert provided an opportunity for them to play in Grange-over-Sands in our series of mid-week concerts.
For the first time in a public concert the band was conducted by their newly appointed director, Anthea Bremner, who gave a clear lead throughout the performance.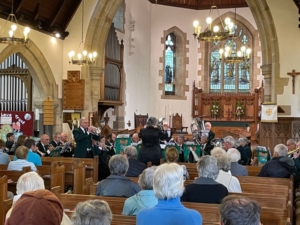 The concert got off to a good start with Lionel Monkton's "Oh, listen to the band", and, oh boy, did the audience do just that?
What followed was a miscellany of pieces, old and new, some firm favourites and some less well-known. We were treated to Leroy Anderson's Trumpeter's Lullaby, the solo of which was expertly played by the band's leading cornet player, and from the enthusiastic applause after Vivian Ellis' "Spread a little happiness" members of the quite large audience were obviously enjoying themselves. Foot tapping was in evidence throughout the church.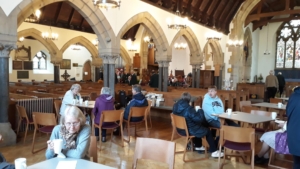 Pieces were introduced by Ian Bird who gave us useful information before each piece. He was anxious to point out that all the players in the band were retired senior citizens. They created some lovely sound modules, but still need to learn to play exactly together as there were a few ragged moments here and there.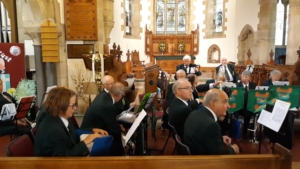 However, the concert came to a thrilling conclusion with a lovely rendering of Ron Goodwin's "Aces High".
Although this was the Band's first performance at St Paul's, it seems highly likely that it won't be their last.
Thank you, Band, for coming to St Paul's and thank you, audience, for turning out on what was a pretty miserable morning.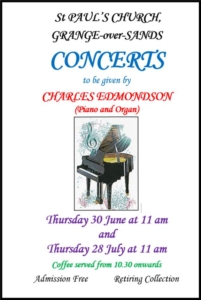 Don't forget to come to the next concert on Thursday, 30 June, when we will try to put the roof of the church back to normal with a concert of organ and piano music. Yes, this is the one which will include a piece by the French composer and organist, Olivier Messiaen. On second thoughts, this performance might also raise the church's roof; we shall see!
Charles Edmondson