Annual Parochial Church Meeting 2020
We were fortunate to be able to hold our APCM at the correct time this year, covering the year 2020.  In fact the meeting comprised two meetings – first the Vestry Meeting followed by the Annual Parochial Church Meeting, with three different chairmen!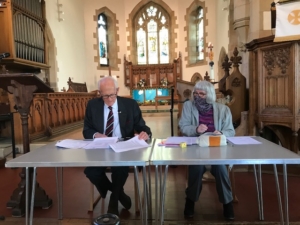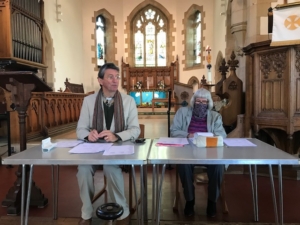 The Vestry meeting was chaired by the Deputy Chair, Colin Milner, who introduced Mike Hill as the only nomination for Churchwarden.  Mike was duly elected for a further year – we are so grateful to him for agreeing to continue do this responsible and time-consuming job, which he does so well.  Unfortunately there were no nominations for the post of second Churchwarden.
Mike then took over the chair, until the Revd Dr Jim Bruce, the Interim Team Rector, arrived, hotfooting it from a previous meeting.
We were sad that Margaret Ratcliffe has decided to stand down as Deputy Churchwarden; Margaret has taken on this task for several years and, in recognition of her service, Mike presented her with a gift and flowers.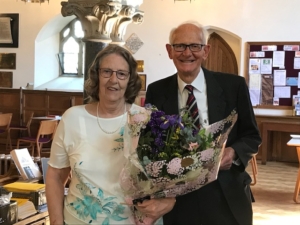 Also retiring from her post as Church Treasurer was Maureen Chadwick, who also received a bouquet of flowers in thanks.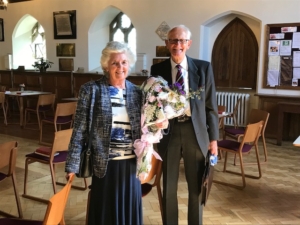 Her position will be taken on by John Millican, the son of Marion who was a regular member of our congregation.  John has recently moved to Grange to live in his mother's house, and we are very grateful that he has agreed to become the new Treasurer.
There were 7 nominations for re-election or new election to the Parochial Church Council for a term of 3 years: Maureen Chadwick, Sue Fleetwood, Mike Hill, Rosemary Hoyle, Susan Jones-Darlington, John Millican and Margaret Ratcliffe.  Also, 14 people were elected as Sides Persons for 2021/2022: Pat Brown, Eileen Burke, Kath Bush, Carol Calveley,  Margaret Caseley, Sue Fleetwood, Audrey Gorman, Bill Jackson, Susan Jones-Darlington, Judith Mitchell, Nevil Newman, Margaret Ratcliffe, Tony Simpson and Penny Ward.
The Annual Report and Financial Statement were approved at the meeting, and copies are still available, either printed or via email from either Rosemary Hoyle or Linda Brown.