A Seasonal Tapestry of Words and Music by Charles Edmondson
&

Audrey Gorman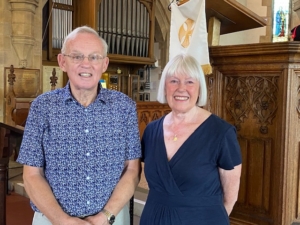 In his introductory remarks, Charles promised us an "unusual" concert and this proved to be the case with a delightful mixture of readings and keyboard pieces on the subject of our "Weathers" as Thomas Hardy described them. Charles and Audrey had come up with a series of oral and musical interpretations of our weather by composers and writers from the 16th to the 20th centuries, Vivaldi, Keats, Charles Dickens, Ogden Nash, George Gershwin, to name but some.
All works sought to transmit – some more effectively than others – the emotions that we experience with the differing seasons. And thus we began with the pregnant hopes and expectancy of spring: our interpreters were Wordsworth ("Daffodils") and Kenneth Graham (Mole's early diggings) amongst others.  Summer's full richness and abundance, as well as the sunshine and the rainfall, belonged to Laurie Lee, Frederick Chopin and George Gershwin (plus the frivolity and cheekiness of Ogden Nash).
And then to autumn when the moods change: to apprehension, threats, sadness, nostalgia for times past and, with the Joseph Bonnet organ piece, gloominess about what has been and what might be no more until the following year. Winter next, silent (difficult to portray with words and keyboards), strong, menacing but tinged with magic – or the rampant fear of  the powerlessness of uncontrolled speed of 6 m.p.h. on ice.
Both our artists put their own interpretation into the art of others and produced a fascinating programme depicting the changes of human living, full of differences but always leading to something new or different yet always magically the same from year to year. Thank you to both for their wonderful work.
Normal format is resumed in September when Charles will entertain us. We look forward to a   further "take" on life's vagaries.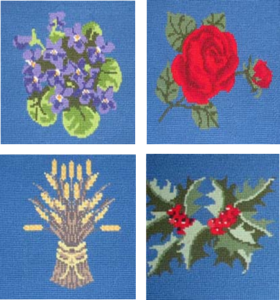 Incidentally, it was nice to see the acknowledgement in the concert's programme of the artistry of the designs of Mollie Bell and Pat Rye in the embroidered blue Lady Chapel kneelers. They were given in memory of Eve Hill and Marjorie Lettiss, and represent flowers from the four seasons. I had not previously appreciated the cleverness of this work. Perhaps we can give a full display at some time to these wonderful items.
Mike Hill
PROGRAMME
Weathers  – Thomas Hardy
SPRING
The Mole in Springtime (from The Wind in the Willows) – Kenneth Graham
Spring – Percy Fletcher
 To Daffodils – William Wordsworth
 Last Spring (from Two Elegaic Melodies) – Edvard Grieg
SUMMER
A Summer Fright (from Cider with Rosie) – Laurie Lee
Prelude, Op.28, No.15 "The Raindrop" – Frederic Chopin
I Didn't Go to Church Today – Ogden Nash
Summertime (from Porgy and Bess) – George Gershwin
The Bee (from Summer Sketches) – Edwin Lemare
AUTUMN
Ode to Autumn – John Keats
Autumn Leaves – Joseph Kosma
November – Thomas Hood
Song of the Chrysanthemums (from Three Autumn Poems for Organ) – Joseph Bonnet
WINTER
Snowflakes (from Reflections) –  Percy Fletcher
Mr Pickwick on Ice (from the Pickwick Papers) – Charles Dickens
Winter (from The Seasons) – Antonia Vivaldi
Stopping by Woods on a Snowy Evening – Robert Frost
Prelude "Footsteps in the Snow" –  Claude Debussy
January – John Heath Stubbs