A day out in the Rusland Valley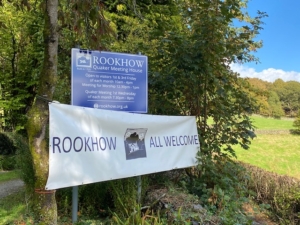 Friday morning, 7th October, started very wet and windy but our party of eight braved the narrow lanes to the Rookhow Meeting House, and the sun came out as we arrived. We had an extremely enjoyable and informative three hours at the Meeting House and came away uplifted by the experience.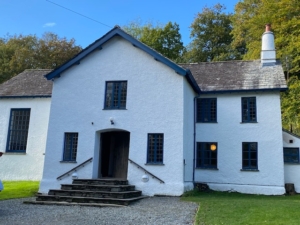 The welcome by our guides for the visit, Suan Marsden and Susie Bulman, was very warm and this set the positive tone for our visit. It quickly became clear that the open days at Rookhow, 10 am-4 pm on the 1st and 3rd Friday every month, are busy times. There are other guides, several happy volunteers, painting, tending the 12 acres of ancient woodland, cleaning the bunk house, and generally being helpful and equally welcoming to visitors.
Everyone appeared to join us for tea and coffee and delicious home-made cakes and biscuits. Suan gave our party an excellent introductory talk, clearly demonstrating her passion for her beliefs but delivered in a way which was not at all dictatorial but simply outlining the ethos of the Religious Society of Friends (Quakers).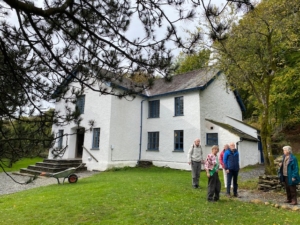 The Meeting House, a Grade II*  building, constructed in 1725, is set in the heart of the beautiful Rusland valley, to serve the rural community, isolated from the other Quaker Houses at Hawkshead, Cartmel, Kendal and Ulverston. The simple architecture has been sensitively restored – the heating under the stone slab floor, served by air source heat pumps, was appreciated on this cool day.
The Quaker ethos can perhaps be best summarised by using a few of the words and phrases Suan and Susie used.  Friends have a direct relationship with God. There is no hierarchy – no bishop, dean, deacon or priest. There are committees to ensure the smooth running of Rookhow but everyone is equal, women and men. All decisions, whether about welcoming someone to membership or maintenance of the site, are based on discernment – a word emphasised a few times. The decision reflects the will of God that members have collectively discerned.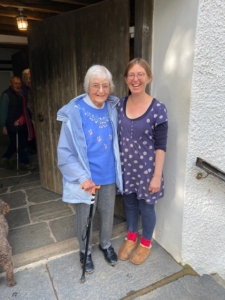 Meetings have no structure like the Anglican Church. There is no singing to distract members from their link to God. Sunday is no more important than any other day – every day is equal. One meeting is held on Friday and our party was privileged to be asked to join in a 30-minute meeting which was held in silence, apart from two short readings from Quaker literature and the words of their founder, George Fox.
We were then joined by Sue Nicholls, Joyce's daughter, who is Development Manager for the Society. She explained that Rookhow is run by a charitable Trust. Income comes from members, grants, letting charges and donations. She described one strand of their work which is clearly very important to members – a 'retreat away' fund, which is used to support people from deprived areas, anywhere from Barrow to Kendal and Maryport. They are particularly enthusiastic about their work in social care for those with mental health issues.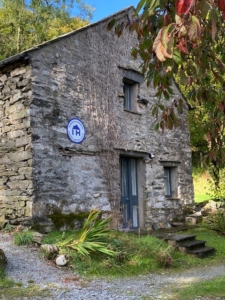 Our guides took us outside to see the bunkhouse, which has beds for 16 people, where their visitors from deprived areas, schools, organisations and families can stay and enjoy the freedom of this wonderful site. They were keen to take us for a short walk in the ancient woodlands, a place they love for its quiet connection to nature and God and where they recharge in the peace and tranquillity.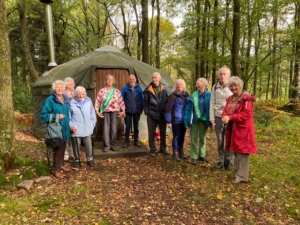 Our party thanked warmly all the Members who had made our visit so positive and uplifting. Our three hours seemed to be over very quickly, but it was time to go the short distance to Rusland Church. Colin has described the church in his booklet but had not been inside as it is often locked, but the churchwarden was there to open the door for us. Colin gave us a short introduction to the site and included the links to Arthur Ransome.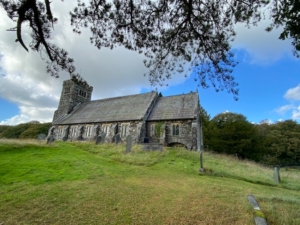 It is clear the church is loved by its small congregation, is clean and well cared for. The stained glass at the east end is excellent. There is much to admire, from the pine stalls to the font and old oil lamps, now converted to electricity.
Set on a prominent hill, the Lakeland stone structure is imposing and the graveyard well-tended. We all visited the grave of Arthur Ransome and his wife, Evgenia, set under an ancient pine tree where he wanted the cones to fall on him.
At the end of our visit to Rookhow and Rusland everyone felt their minds had been opened to understand a different approach to a relationship with God and to witness the strength of communion with God in this rural setting at two different sites.